ELITE CLASSICAL PORTRAIT COMMISSIONS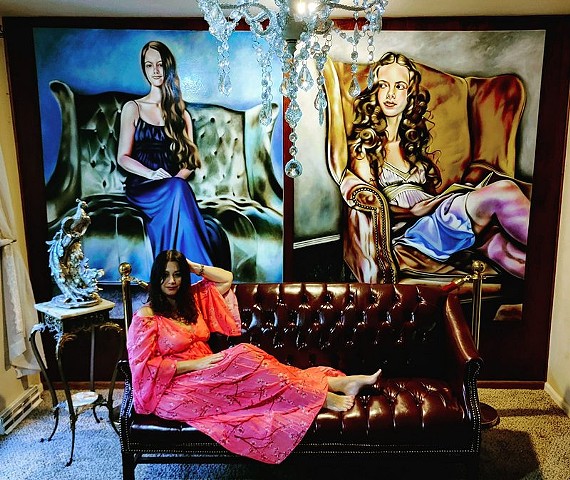 "I'm so Proud to be Bringing Back the Beautiful Fine Art
of Classical Portraiture."
"The Clarity and Elegance
of These Large Portraits
is Enrapturing.
Besides an Intense "Feeling"
I want to project
with each individual Portrait,
making it One-of-a-Kind,
Unique, and Original,
I strive for Very High Contrast,
which Dramatizes the entire effect
of the Portrait,
making it Radiant and Supreme."
-Guinevere
(Grand Classical Portraits by Guinevere - 2021 works in progress)
"My heart
is absolutely captivated
by the Beautiful Classical Portraits
of Old,
and am so very proud
to be bringing them back.
_
I Love the Smooth Sensuality
about these Unique Techniques.
Colors so subtly
fading into one another . . .
The Light Shining
on these Grand Portraits
makes them look Majestic!
Their Greatness in Size
equals their Greatness
in Beauty!
Velvety, Soft Elegance.
_
I Love the Beauty
of the Whole Subject!
The face of The Portrait,
the hair,
the softness of the skin,
the folds of fabric,
the light,
how the light hits
and changes colors
ever so gradually.
Simply Beautiful!!"


- - - - - - - -
For a Period of Time,
I would like to offer
Grand Classical Portrait Commissions
to Elite Art Patrons.
Sitting is to be taken place
at my Private Estate, or Client's.
Images to be taken by me.
Framing done at Client's Expense.
(5'X6') Grand Classical Portrait: $2,000,000 (1/2 down)
Please allow up to 18 months for completion.
Thank You.
Please call (913)777-9511
to Schedule a Grand Classical Portrait Sitting.
Thank you, and I look forward to working with you.