GUINEVERE - BIOGRAPHY
GUINEVERE
Guinevere is a "Beautiful Homemaker," Wonderful Loving Wife, Mama, and MimiNana, to her Handsome Husband of 25 years, 9 Beautiful and Talented Children, and her First, Cute Grandson, who's now 7 1/2.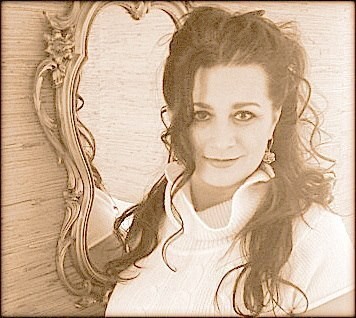 She's an Elite Classical Portrait Painter, "Multiple-Award-Winning-Self-Taught-Artist," Awarded and Honored as "Kansas City's Artist of the Year" -2002, and an "Award-Winning Dancer" -1993
"I am all I ever wanted to be."
- Guinevere
ABOUT THE ARTIST - GUINEVERE
"I would describe my ArtWork
as somewhat "Stylish."
I'm a pretty Stylish Woman,
and I think it just comes through
in my ArtWork." -Guinevere



Guinevere is a Highly Acclaimed Fine Artist and Instructor, well versed in a Wide-Variety of Art, who has been Moving through Art and making Headlines for Years.
Raised in the small town of Sauk Rapids, Minnesota, and at an early age, Guinevere found she had a Natural Gift for Art, Winning Awards and Teaching Art to her peers and students of all ages, from the young age of 12.
___
Guinevere's been Honored and Awarded as "Kansas City's Artist of the Year" -2002 and in Art alone, (Realistic to Abstract), she is a Multiple-First-Place-Award-Winner in all the following categories of "National Merit," "Mixed-Media," "Design," "Pastel," "Pencil," "Charcoal," and "Oil Painting."
Guinevere has been Nominated for "Who's Who of American Women," is in "Who's Who of America,", was honored to be voted as "Kindest Kansas Citian", and Greatly Honored as "Most Inspirational Instructor."
She was even Greatly Honored and Awarded "Best Dancer," at a popular Kansas City Dance Club, when she was just 20 years old.
Nowadays, you will find her taking care of her Beautiful Home and Family, at her Lovely Estate in Kansas, USA.


GUINEVERE: THE ARTIST


AN ARTIST IS BORN (1973)

1973: (Born)
- Albany, MN


A YOUNG GIRL (1977-1987)
Guinevere: 4-14 yrs. old

1977-1987: (4-14yrs. old)
- Exceptional Dancer; 10 yrs. Jazz, Tap, Ballet
1980-1987: (7-14yrs. old)
- Lead Actress; 7 year Theatre Career
1985: (12yrs. old)
- "Honorable Mention"; Tri-County Drawing and Writing Contest, MN. Awarded and Recognized in front of entire Elementary School.
- "First Place," Kite Design, out of all sixth grade classes


THE HIGH SCHOOL YEARS (1988-1991)
Guinevere: 15-18 yrs. old

- Move to KS from MN
- Immediately placed in "Independent Study," bypassing Foundational Course, Assistant to new Art Teacher
- Active Member of High School Art Club
- Exhibited, local banks, Greater KC
- Exhibited Portrait Work, Highly Recognized "Folly Theatre," Downtown, KC
- ArtWork Examples in High School Art Classes
- ArtWork published, "PennPoint" Magazine, alongside others' Poetry
- "Honorable Mention;" Colored Pencil Still-Life/Vegetables, "Shawnee Mission Scholastic High School Art Competition," out of all Shawnee Mission High Schools, KS
- Started New High School
- Taught Art to Students in New Art Class
- For Entertainment, Guinevere, and her friends and brother, went out Dancing, and hung out at the "Nelson." ("Nelson Atkins Museum of Art," Kansas City, MO.)


A YOUNG WOMAN WITH PROMISE (1992-1994)
Guinevere: 19-21 yrs. old

1992: (19yrs. old)
- Prestigious "Academic Award Talent Scholarship," Highly Recognized Johnson County Community College, Overland Park, KS
1993: (20yrs old)
- Awarded "Best Dancer" at Popular Dance Club, Kansas City
1994: (21 yrs. old)
- "First Place," National Art Competition, "League for Innovation in the Community College," Certificate of National Merit, Large Mixed-Media piece, titled "Mind Over Matter," Awarded & Recognized in front of entire College.
"Mind Over Matter," 1994: "Working through the perplexity of life's challenges, my world of undulating thoughts can never be tame, if only mind could truly be the direct outlet, I'd imagine my way right out of here."


THE LEADER IN HER (1995-1996)
Guinevere: 22-23 yrs. old

- Back to MN from KC
- Taught Before & After School Art Classes, Students of All Ages; Minneapolis & St. Paul, MN School Districts
- Made Headlines with Students in local St. Paul Newspaper
- Volunteered and ran all Art Programs, at Prestigious "Amherst H. Wilder Foundation," St. Paul, MN, giving professional Art Presentations and Teaching Art to Senior Citizens
- "Student Leadership Recognition Award," Leading all Art Programs at Highly Recognized Lakewood Community College, Maplewood, MN (now known as Century College)
- "President and Program Director," "The Creative Arts Alliance," College's Official Art Club
- "Assistant to Art Director," in-charge of entire Ceramic Department, College's Work/Study Program


THE TEACHER (1996-1997)
Guinevere: 23-24 yrs. old

1996: (23 yrs. old)
- Graduation
- Back to KS
- Taught 5 different types of After School Art Classes, weekly, for Magnet School, KCMO
- "Sales Associate," "Keith Coldsnow's Art Supply," Overland Park, KS, "Children's Art Program Director"
- Taught After-School Art Program, Blue Valley School District, KS
- Taught Private Art Lessons, Wealthy Students' homes, KC Area
1997: (24 yrs. old)
- Taught Art through YWCA. Young Children Early Morning & Afternoon Classes. Various Elementary Schools. Overland Park, KS
- Founded First "Fine Art School," "The Gerardy School of Fine Art," Overland Park, KS. For Students of All Ages: Where they could Draw, Paint & Sculpt, a Variety of Subjects, Topics, and Concepts, through a Variety of Styles and Media. Very Successful. Too Much Business to handle.


THE BUSY YEARS (2000-2002)
Guinevere: 27-29 yrs. old

2000+: (27yrs. old)
- Joined "Greater Kansas City Art Association" (GKCAA) and "Mid-America Pastel Society" (MAPS)
- Immediately Won several "Artist of the Month" "Blue Ribbon" - "First Place" Awards from "Greater Kansas City Art Association"
2001: 28yrs. old
- Guinevere's First Art School, "The Gerardy School of Fine Art," was Interviewed for Article in Specialty Section, "The Kansas City Sun" Newspaper
- Founded "Model Masters," - The Art Club for Drawing People
- Commissioned Portraits for Hundreds of Dollars, Five Years Later, Commissioned Portraits for Thousands of Dollars
2002: (29 yrs. old)
- Almost "100 Students" Enrolled in her Spring Semester Art Classes, at "The Gerardy School of Fine Art," Overland Park, KS.
- Honored & Awarded "Kansas City's" "Artist of the Year," Selected from "Best of the Best Artists in Kansas City," at End of Year Art Competition, The Country Club Plaza, KC.
- That Summer, hired Personal Secretary and 5 Teachers, but Students, and Parents of Students, wanted her to be the Teacher, said didn't want to Enroll for Fall, unless She was going to Teach.
- Too much to handle. Pregnant with 5th child.
- Closed down Successful Art School


SLOWING IT DOWN (2003)
Guinevere: 30 yrs. old

- For The First Time, Guinevere and her family moved to small Historic Downtown Sedalia, Missouri.
- Home looked like a Castle. Turret and Everything.
- Built in 1889, off of Broadway Boulevard, (Guinevere had had her eye on for a few years)
- Was Wonderful. Had 2 Kitchens, on different levels, Huge Ceilings, Round Rooms, Grand Foyer, Master Bedroom, with Private Balcony.
- Footsteps away from Historic Downtown setting, where she and her husband imagined having Shops in one day. (and they did, several years later)
- Guinevere's husband had to Travel to and from KC for work daily. Didn't see him enough.
- Moved back to KC.


THE ARTIST AS A YOUNG WOMAN (2004-2005)
Guinevere: 31-32 yrs. old

2004: (31 yrs. old)
- Opened First "Portrait School" Overland Park, KS
2005+: (32 yrs. old)
- Ran High-End Commission Portrait Business, called "The Portrait"
- Conducted Realistic to Abstract Portrait Workshops throughout KC
- Continued to Exhibit Her, and Her Students, ArtWork at various Galleries throughout KC
- "Art Teacher" for Lenexa Christian Center's Homeschool Enrichment Program, in Lenexa, KS
- "Guest Speaker" at "Greater Kansas City Art Association" (GKCAA). Speaking about Color Choices in the Portrait
- Ran a Portrait Fine Art Academy, while in Lenexa, KS


HER WOMANHOOD/MOTHERHOOD PERIOD - A changing point in her life (2007)
Guinevere: 34 yrs. old

- At the young age of 34, Guinevere went through her Womanhood/Motherhood Period
- She greatly felt in her heart that women should get back to the basics of true Motherhood at home, and be the gentle support and feminine beauty that families need in the home
- No longer wore black anything
- Wore Soft, gentle feminine colors, pleasing to the eye, beautiful dresses, even designing and sewing them herself, for herself and also her daughters
- Grew out her hair, long, full, and wavy
- Brought the beautiful art of homemaking to the forefront of her life
CREATING HOME
- Moved back to Historic Sedalia, Missouri.
- Bought Big Historic Red Brick Home, built in 1900
- High ceilings, large front porch and Porch Swing
- French Doors that opened to Large Dining Room with Long Window Seat and Beautiful Crystal Chandelier
- Large Claw Foot Bathtub
- Sauna and Bar downstairs
- Maids Staircase winding to and from Kitchen area
- Walk-Out Porch from Bedroom overlooking backyard
- Finished attic, the entire top floor of the house, with Long Window Seat. A room so big, that All Her Daughters got to share same room, like a Big Slumber Party every night
- Another Set of French Doors opened to Large Porch on 2nd Level, the Length of house.
- Downstairs; School Room for Children, and Dance Floor
- Walking distance to Public Library, Park, and Historic Downtown Setting
- Right off Broadway Boulevard, in small town of Sedalia, MO, Where Everybody Knew Everybody, and where she could focus on her Beautiful Family and Home
- Baked Very First Apple and Rhubarb Pies with her Children
- Planted Flowers with her Children, for the very first time
- Painted Walls and Murals for New Home. (Huge Brachiosaurus for Boys' Room, and eventually, Several of Mickey Mouse for the Nursery)
- Took on the "Joys" of Home-Schooling her Sweet Children, and being there for her "Big-Loving Family" that she always wanted


A "PIECE" OF FREEDOM (2008)
Guinevere: 35 yrs. old

- Shortly after entering her Womanhood/Motherhood Period, Guinevere Won First Place at the "Shawnee Business Expo." in 2008, in Shawnee, Kansas
- Huge Oil Painting of 3 of her daughters running down a clover-filled hill in the tiny town of Arrow Rock, Missouri, dresses flowing in the breeze with smiles and giggles of laughter lighting up their faces. Blades of grass were created with thick strokes in a multitude of greens, and there were sprinkles of glitter throughout, to add to the joy of the painting.
- Guinevere titled it, "Free," and it depicted a beautiful time and Era in her life.


A RETURN TO ART (2009-2010)
Guinevere: 36-37 yrs. old

2009: (36 yrs. old)
- Opened up "The Gerardy Gallery," in 2009, in Historic Downtown (Shopping Setting) of Sedalia, Missouri, walking distance from her Historic Home
- Featured on Front Page of Sedalia Democrat Newspaper, with husband and children, preparing "The Gerardy Gallery."
- Started "Dancing" again, a renewed sensation and love, after having stopped for so many years, due to her old church's religious convictions. It was so moving, she cried, as she danced and felt the freedom of movement and music pour through her, once again.
2010: (37 yrs. old)
- Over time, Guinevere and her family moved to a Huge 6 bedroom home, kind of out in the country, in DeSoto, Kansas
- 3 acres of land, white carpet, large Jacuzzi, huge back porch that covered the length of the house, dance floor, cool intercom system throughout entire house, had a fancy doorbell ring
- Where she ran a Fine Art Gallery and Commission Business, called "GerardyART," featuring large Abstract Oils and Mixed-Media pieces
- Returned to their Historic Red Brick Home, built in 1900, in Historic Downtown Sedalia, Missouri
- Opened "Guinevere Fine Art Gallery," in Historic Downtown, Sedalia. Working more on Pastel Abstract Portrait Series, Huge Abstract Oils, Portrait-Sketches for passersby, on the curbside just outside her Gallery
- Huge One-Woman Solo Show, Kansas City's First Fridays, Guinevere-unveiled, for thousands of people, at Hemingway Gallery, KC, featuring over 30 pieces of Realistic to Abstract Drawings, Paintings, and Sculptures
- . . . right before she moved back . . . to Kansas City.


SUCCESS (2010-2011)
Guinevere: 37-38 yrs. old

- Guinevere found a lovely White Brick Home, sitting in the middle of 3 acres of trees and field, in the middle of the city, with a White Stone Entrance and Circle Drive.
- 5-10 minutes from Movie Theaters, Shops, Restaurants, Mall, and The Country Club Plaza. Guinevere even walked to the Mall a couple of times with some of her children.
- It had cool Pocket Doors (sliding doors) between rooms, and Guinevere even created a dance floor, downstairs. It was so big that one of her daughters used to roller skate down there.
- Three fireplaces. Collected branches in back yard for fires. Guinevere liked having them going year-round
- Several Apple trees, they greatly enjoyed. Even making a tree fort in one of them.
- Put up several rope swings in trees that her children swung on daily.
- Had a little wooden play house for her little ones
- Created a walking path in back yard. They would ride their bicycles around, or take long walks together or alone.
- Country living, in the city. A dream.
- Besides the great home environment, Guinevere had the honor of opening up The Grand "Guinevere Art Museum - Kansas City Gallery," located downstairs of the Prestigious and well-known Leedy-Voulkos Art Center, in the Crossroads Arts District, in Kansas City, Missouri, exhibiting her work, her children's work, and Prominent Local and International Artists, again, showcasing for Kansas City's First Fridays events, for thousands.


THE YEAR OF THE GREAT SMASHING AND BURNING (2011)
(what her son calls it)
Guinevere: 38 yrs. old

- Shortly after opening the Gallery at the "Leedy Voulkos", in 2011 in Kansas City, Chris and Guinevere purged hundreds of her works of Art, ALL Art related things, so Guinevere could completely be a "Stay-At-Home-Mother" to her 8 Children (8 is all she had at the time) that she always wanted to be, . . . an on-going struggle she'd had for many years, where she felt "ART" was stealing her years of Motherhood.


WHAT REMAINS
- (With everything purged and gone, only a few Works of Art, of what remains, dated prior to 2011, have currently been donated to the Art Museum from family, friends and patrons, as well as a few photo images selected for an On-Line Art Exhibit.)


THE STRUGGLE (2011)
- Shortly after, devastatingly, Guinevere had to return to the Wonderful World of Art, for financial reasons.
- As she had purged everything, she realized how many wasted years were given to artwork subjects that didn't even matter to her. (Still-life set-ups and models for portrait work, etc.)
- It was hard, physically and emotionally, getting back into art, after believing she would never have to deal with it again. Guinevere, then, turned to themes in her Artwork of Family, her Children, Mother and Child, Dancers and Lovers, besides an occasional Abstracted piece or two, just for fun. Things that mattered to her.


THE STARTING ALL OVER YEARS (2012)
Guinevere: 39 yrs.

- Chosen as "Featured Artist," for iconic Plaza Art Fair, for thousands of people, at The Country Club Plaza, in Kansas City, specializing in a Public "Portrait Sketching Event," that she involved her whole family in, as well.
- Moved back to their Big, (year 1900), Red Brick Home in Historic Sedalia, Missouri
- Opened up "Guinevere's Arte Shoppe," with her family, Historic Downtown Sedalia, selling Art Supplies, offering Art Classes, Workshops, and Open Studio Sessions.
A FAMILIAR PLACE (2012)
- A quick move back to their White Brick Kansas City Home, on 3 acres
- Opened "Guinevere Art Museum of Kansas City," featuring Personal Galleries and Working Art Studios for Art Classes
- Created a Very Large Sculpture made from twisted branches that she formed into a Great Design and Painted, placed directly in the Center of their Circle Drive
- Home Again. Country Living, in the City
- This time, on her walks in the treed back yard paths and field, Guinevere often imagined how Wonderful it would be to have a Horse-Drawn Carriage taking her through the fields.
- With a Newfound Love of the Old Classical Movies, and Books, it is here, at this Home, and at this Time, where Guinevere truly became Intrigued with Classical Portraits of Old, and first started her Large "Classical Portrait Paintings Theme," that she works on today.


HONORED (2013)
Guinevere: age 40

- A Portion of Guinevere's Success Story Can Be Found in the Encouraging and Inspirational Book "Triumph Over Adversity," published in 2013, by Dr. Charles Jackard, (a High School Principal of hers), in which she additionally gave a Personal Testimony at a Special Event in Kansas City, with Dr. Jackard, himself, promoting his New Book.


SPREADING OUT (2015)
Guinevere: 42 yrs. old

- "Final Move" back to Historic Sedalia, MO home, built in 1900, to "Sell"
- Opened "Guinevere's Atelier," A Return to the Classics: A Private Art Studio, Focusing on Classical Techniques in Drawing, Painting, and Sculpting.
- Fall 2015, Exciting Love Inspiration for "Dance", Zumba-Dance Classes, became Licensed International "Zumba-Dance Instructor"


PUTTING IT ALL TOGETHER (2016)
Guinevere: 43 yrs. old

- Classical Portrait Painting of "Ivy" is in Prestigious "American Art Collector" Magazine's "Portrait Artists Directory 2016," representing Commissioning Grand Classical Portraits to Elite Fine Art Patrons, Classical Style Studio, KC
- Opened Brand New Art School, Historic Sedalia, MO, "Guinevere's Art School" - An Inspirational Private Art School
- Taught Private Art Lessons to Wealthy Students, in their homes, throughout Greater Kansas City Area.
- Fall of 2016, "Sold" Historic Sedalia Red Brick Home, built in 1900
- Came back to KC
- Focused on Large Family of 9 Wonderful Children and First Grandbaby
- Focused on Grand Classical Portrait Paintings and Commissions to Elite Fine Art Patrons
- Taught Great and Inspirational Drawing, Painting and Sculpture Classes, (Realistic to Abstract). Small Inspirational Private Art School, simply titled, "Guinevere's Fine Art School"
- Prepared for "Ballet"
- Moved into Lovely Grey Stone Home Estate
- Very Large Pear Tree, Old-Fashioned Rope Swings, in Pear Tree and in Backyard, for her Little Ones, Screened in Back Porch (overlooking her lush yard) Flowers, Lovely Sculpture and Flower Garden, Rose and Lilac Bushes.
- Elegant Private Studio with Vaulted Ceiling, a Main Studio, including Drawing, Painting and Sculpture Studios, a Grand Dining Room (with Beautiful Stone Fireplace and Crystal Chandelier) and Drawing Room (with Gorgeous Crystal Chandelier and Large Sliding Glass Doors to Outdoor Patio), displaying Grand Classical Portraits Throughout, a Fun Dance Floor, and a Cute Old-Fashioned School Room for her Children
- Walking distance to Mall, Dance School, Tae Kwon Do, Shops, Public Library, Roller-Skating Rink, and Restaurants
- Return to "Sculpture." Member of Belger Crane Yard Studios/Red Star Studios, in Kansas City


A NEW BEGINNING (2017-2018)
Guinevere: 44-45 yrs. old

- Founded Kansas City's Premier Fine Art School: "Guinevere Academy of Fine Art" - An Elite Private Fine Art Academy in Kansas City, for All Ages O.P., KS
- Exhibited at Brand New Café, "Far East Café," Overland Park, KS
- Joined Daughter in "Jazz" Dance Lessons. Miller-Marley School of Dance and Voice OPKS
- Along with another daughter, "Baby," Guinevere joined Kansas School of Classical Ballet OPKS
- Guinevere Academy of Fine Art, developed into "Guinevere Art Academy," welcomed Ages 1 to Adult, to Experience the "Beautiful Fine Art to Creating Beautiful Fine Art" OPKS


GOING FORWARD (2019/21)
Guinevere: 46-47 yrs. old

- Created "Home," made sure Her Big Family came First; focused on being the "Mother" and "Beautiful Homemaker" that she always wanted to be
- Painted Grand Classical Portraits & Commissions for Elite Clients
- Featured Artist in "AMERICAN ART COLLECTOR" (August 2020 Issue; 6th page) "Collector's Focus" Portrait Art Editorial Section and "Featured Artist and Galleries" on pages 62-64
- Member of the Nelson-Atkins Museum of Art
- Ran "Guinevere Art Academy" - Home of Kansas City's Premier Fine Art Classes
- Continued Ballet at "Kansas School of Classical Ballet" (Third Year)
- Started to Simplify Life and Focus on the Things that Really Matter


SIMPLIFYING THE FOCUS (2021)
Guinevere: 48 yrs. old

- Embraced "Womanhood, Home, Motherhood" and all of its beautiful aspects
- Painting Grand Classical Portraits & Commissions for Elite Clients
- Ran GUINEVERE ART ACADEMY - Kansas City's Premier Private Fine Art Academy
- Led "Grand Classical Portrait Tours" in her Private Estate
- (Second Year) Member of the Nelson-Atkins Museum of Art in KC
- Continued to "Simplify" and Live her "Dream Life"


MAKING IT HAPPEN (2022)
Guinevere: 49 yrs. old

- "New Move," "Making it Happen!"
- Tons of Windows, Beautiful, Grand, Wood-Burning Fireplace, in Wide-Open, Old-Fashioned, Drawing Room
- Lovely White French Doors, leading to Cozy Library
- Gorgeous Large, White, Jacuzzi Bathtub, in Spacious Master Bathroom, with Colored Lights and Jets, under Lovely High Vaulted Skylight
- Spacious, Landscaped Backyard, Gardens, Flowers, Large Brick and Stone Patios. Truly, a Breath of Fresh Air.
- Embracing "Womanhood, Celebrating 25 Years of Marriage, Home, Motherhood" and all of its beautiful aspects
- Retired from Commissions, Tours, and Teaching, to Focus on Her Family
- Taking it Easy. Only Painting Grand Classical Portraits of her Children, (when she has the time)
- Nominated, and Interviewed, for Her Placement in "Who's Who of America"-2023