PRIVATE TOURS
Eleven Years Ago, in 2012,
Guinevere became Deeply Inspired by the Wonderfully Beautiful, Classical Portraits of Old.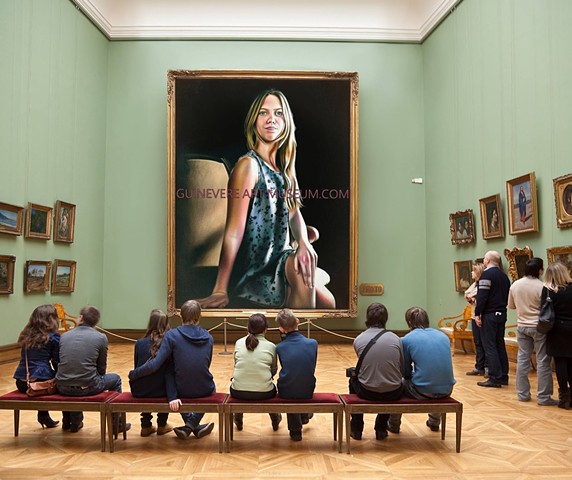 Guinevere Found Herself
in a New Place,
and in a New Time,
therefore,
spawning a New Beginning
for her, and her Art.
A Rebirth, Back to the Classics,
and Classical Portrait Painting.
. . . An Intense Fascination
with the Many Smooth Colors
that Make up the Glowing Skin,
Luscious Beautiful Hair,
The Elegant Draping of Folds,
in Unique Fabrics,
The Great Contrast,
The Grand Size,
. . . The Drama of it All.
(image for artistic purposes only)
"THE GIRL IN THE BLUE FLORAL DRESS" Mixed-Media 2016, by Guinevere


Enjoy a WONDERFUL PRIVATE TOUR,
at Guinevere's Charming, Private Estate, on Castle Drive.
See her Amazing Grand Classical Portraits, Permanent Collection,
in all of their Glorious, and Beautiful Splendor,
up close and intimately,
with a Personally Guided Tour, by Guinevere, herself.




- GRAND CLASSICAL PORTRAIT PRIVATE TOUR ADMISSION FEE: $2,500
(subject to change)
Guinevere's Grand Classical Portrait Paintings Exhibit (2018-2023)
See the Amazing Mixed-Media Portrait Masterpieces, up close and personal, that line the walls, of the Artist's Private Estate. Admire the Elegant Whole, in The Formal Painted Portrait, taking you back to a Beautiful Era, long ago. "Awww," in their Brilliantly Colorful Beauty. Find out which one is Guinevere's Favorite Piece, and Why.
(By Appt. Only, Saturdays at 2pm, unless otherwise Scheduled.)


Please Call 913-777-9511 To Schedule a Private Tour
Current Tours Conducted at Guinevere's Private Estate on Castle Drive
Future Tours Will Be Conducted at Guinevere's Private Estate
at Bellton Castle, in Mission Hills