PRIVATE TOURS: GRAND CLASSICAL PORTRAIT PAINTINGS COLLECTION
Nine Years Ago, in 2012,
Guinevere became Deeply Inspired by the Wonderfully Beautiful, Classical Portraits of Old.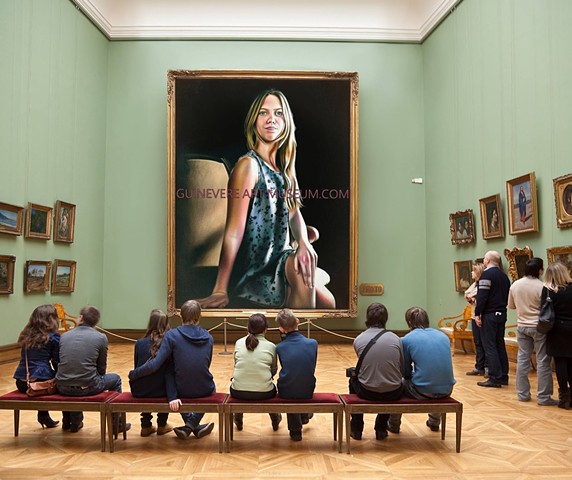 Guinevere Found Herself
in a New Place,
and in a New Time,
therefore,
spawning a New Beginning
for her, and her Art.
A Rebirth, Back to the Classics,
and Classical Portrait Painting.
. . . An Intense Fascination
with the Many Smooth Colors
that Make up the Glowing Skin,
Luscious Beautiful Hair,
The Elegant Draping of Folds,
in Unique Fabrics,
The Great Contrast,
The Grand Size,
. . . The Drama of it All.
(image for artistic purposes only)
"IVY" 2016 Work in Progress, by Guinevere
EXPERIENCE
THE "GRAND CLASSICAL PORTRAIT PAINTINGS" COLLECTION
PRIVATE TOUR
(works in progress since 2012) by Guinevere
OPEN: SUNDAYS 2-3pm (By Appt. Only*)
LOCATION: "The Ivy Cottage," Private Estate, in Overland Park, Kansas
*Time will vary up to an hour
Meet and briefly visit with the Lovely Artist, Guinevere,
while Enjoying a Fantastic Spread of Light Afternoon Refreshments.
- - - - - - - - - -
REFRESHMENTS:
Homemade Punch, served in a Beautiful Crystal Cut Glass Punch Bowl,
. . . in the warmer months,
. . . and Cozy Hot Cinnamon Apple Cider,
Delicious Hot Cocoa,
or Amazing Holiday Egg Nog,
. . . in colder months.
. . . along with an Elegant Spread of Fine Cheeses, and Grapes.
- - - - - - - - - -
Meander through 3 Floors of this Wonderful Exhibit
of Beautifully Painted Grand Classical Portrait Paintings.
- Styles and Techniques in which Guinevere has Created/Self-Taught herself, throughout these past 9 years.
See these Awe-Inspiring Amazing Works of Art, up-close and in person,
(Works of Art, in various stages of progress, since 2012),
with a Personal Guided Tour, by Guinevere, herself,
including her Lovely Private Studio,
decorated with a Great and Beautiful Display of Ivy,
where she Derives her "Inspiration,"
and Creates these Fabulously Grand Classical Portraits.
This Tour Concludes with a Stroll in the Artist's Courtyard,
(weather permitting), to see Guinevere's Beautiful Flower Garden, complete with Benches, Decorative Birdbaths, and Sculptural Bunnies.
TOUR ADMISSION
$1,200 (price includes up to 2 people, up to 1hr)
(For Groups: Additional Admission Fee for up to every 2 people, up to 1hr)
Please Call (913) 777-9511 to set up an Admission Appt. Thank you.
- (Current Tours conducted at Guinevere Art Museum of Kansas City -
"The Ivy Cottage," Private Estate," in Overland Park, KS.)
- (Future Tours conducted at Guinevere Art Museum of Kansas City -
"The Bellton Castle," Private Estate," in Mission Hills, KS.)
We Welcome You, and Look Forward to Meeting You.