GRAND CLASSICAL PORTRAIT PREMIER TOURS
Eight Years Ago, in 2012,
Guinevere became Deeply Inspired by the Wonderfully,
Beautiful Classical Portraits of Old.
In High School, they were her First Love,
before Impressionism, and Abstraction, came in and took over.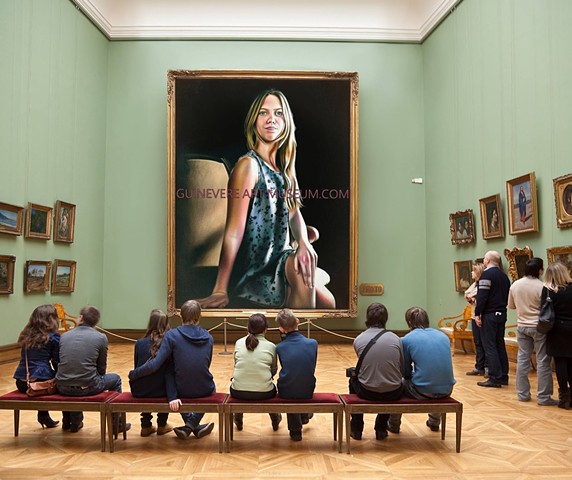 Guinevere Found Herself
in a New Place,
and in a New Time,
therefore,
spawning a New Beginning for her,
and her Art.
A Rebirth, Back to the Classics,
and Classical Portrait Painting.
. . . An Intense Fascination
with the Many Smooth Colors
that Make up the Glowing Skin,
Luscious Beautiful Hair,
The Elegant Draping of Folds,
in Unique Fabrics,
The Great Contrast,
The Grand Size,
. . . The Drama of it All.
(image for artistic purposes only) "IVY" 2016 Work in Progress by Guinevere
EXPERIENCE THE "GRAND CLASSICAL PORTRAIT PAINTINGS" TOUR
(works in progress since 2012) by Guinevere
- SUNDAYS: 2-4pm (By Appt. Only)
Meet and briefly visit with the Artist, Guinevere,
while Enjoying a Lovely Spread of Light Afternoon Hors D'oeuvres,
in the Formal Dining Room, of her Cozy, Private Estate,
coincidentally named, . . . "The Ivy Cottage."
Meander through 2 Floors of Beautifully Painted Classical Portraits.
See these Wonderful Works of Art up-close and in person,
(Works of Art, in various stages of progress, since 2012),
with a Premier Guided Tour by Guinevere, herself,
including her Lovely Private Studio, where she Derives Inspiration
and Creates these Fabulous Grand Classical Portraits.
While Touring her Private Studio,
Dress-Up in Beautiful, Old-Fashioned Costume,
and get your Picture Taken by Guinevere.
(And, optionally, with Guinevere, if you would like.)
Additionally, Take a Stroll in the Artist's Courtyard,
to see Guinevere's Beautiful Flower and Sculpture Garden.
Play a round of Croquet, or Badminton, on the grounds,
if you would, also, enjoy doing so.
This Fine Premier Tour
concludes with an (optional) Complimentary Pencil Portrait,
of You, from life, drawn by Guinevere, herself, to take home with you!
(Individual Only. Head & Shoulders. Indoors or Outdoors. Weather Permitting.)
As Always, We Welcome You, and Look Forward to Meeting You.
TOUR ADMISSION: $1,000 per person
(includes (optional) Complimentary Individual Pencil Portrait of You,
drawn by Guinevere)
Thank You for Allowing us to Share this Great Experience with You!