GRAND CLASSICAL PORTRAIT COMMISSIONS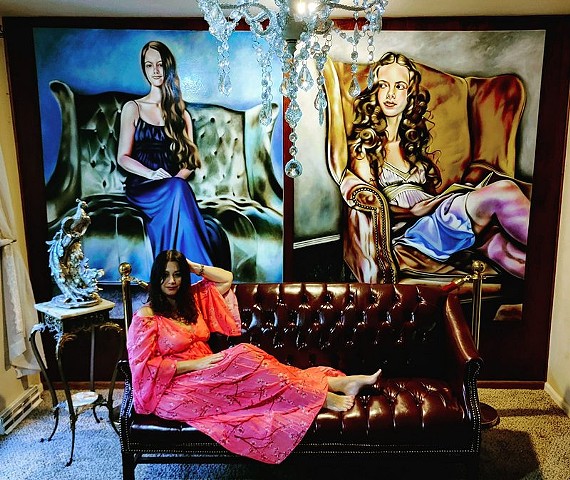 "I'm so Proud to be Bringing Back the Beautiful Fine Art
of Classical Portraiture."
"The Clarity and Elegance
of These Large Portraits
is Enrapturing.
Besides an Intense "Feeling"
I want to project
with each individual Portrait,
making it One-of-a-Kind,
Unique, and Original,
I strive for Very High Contrast,
which Dramatizes the entire effect
of the Portrait,
making it Radiant and Supreme."
-Guinevere
"My heart
is absolutely captivated
by the Beautiful Classical Portraits
of Old,
and am so very proud
to be bringing them back.
I have formed
some Very Special Techniques
over time,
with Uniquely Formulated
Oil Paints,
in a Non-Toxic Painting Environment,
that have the Ability to Work
Without Any Harmful Solvents,
that do take a Long Time,
through Layering,
Blending and Curing.
- A Special Process
that cannot be rushed.
And I am Simply Enraptured
with the outcome
of the Portraits,
offering Exquisite
Portrait Masterpieces,
for Elite Fine Art Patrons,
from all over the world.
_
I Love the Smooth Sensuality
about these Unique Techniques.
Colors so subtly
fading into one another . . .
The Light Shining
on these Grand Portraits
makes them look Majestic!
Their Greatness in Size
equals their Greatness
in Beauty!
Velvety, Soft Elegance,
Masterfully Rendered!
_
These Grand Classical Portraits
are Gorgeous! . . .
Elegant! . . .
Reigning Supreme!
I Want Everyone
to be Impressed
on Every Level!
The Size,
the Magnitude,
the Softness,
the Grace.
I Want You,
My Fine Art Patron,
and Your Family
and Friends,
to Walk Up
to these Great Portraits,
and say,
"Wow!
This is Amazing!
This is Absolutely Gorgeous!
Stunning!"
That Makes Me Smile.
I Love the Beauty
of the Whole Subject!
The face of The Portrait,
the hair,
the softness of the skin,
the folds of fabric,
the light,
how the light hits
and changes colors
ever so gradually.
Just Beautiful!!
With Each Classical Portrait
I Make,
I strive to Make it
the BEST ONE
I've ever made!"
_
CLASSICAL PORTRAIT COMMISSIONS
Life-Sized, or Larger than Life, 6 feet tall and 5 feet wide, 3/4 length to Full length Individual (1 figure) Uniquely Formulated Oil Portrait on Canvas. Artist to take photographs in Studio/Private Estate, or at your Home. Client covers all additional costs of transportation and framing. Please allow up to 12 months for completion.
Thank You.
$2,000,000
50% down
"With a Fantastic Husband, 9 Wonderful Children, and 1 Special Grandbaby, my time is Very Limited and Very Valuable. I set a Portion of My Time aside for Commissioning these Magnificent Portraits, and I would be Greatly Honored to be able to Paint Your Portrait for You."-Guinevere
Please Call 913-777-9511
to set up a Registration Appt. Thank you.
(Current Appt.s held at Guinevere Art Museum of Kansas City - Private Estate, in Green Meadows, Overland Park, KS.)
(Future Appt.s held at Guinevere Art Museum of Kansas City -
"The Bellton Castle Private Estate," in Mission Hills, KS.)
Thank You.
We look forward to meeting you.